BIOGRAPHY

Recently, Marian Pop enjoyed great successes as BARNABA in 'La Gioconda' at the Innsbruck Municipal Theatre, as CARDILLAC at the Salzburg Municipal Theatre, as SCHAUNARD in 'La Boheme' in Seoul and as DANILO in 'Die Lutige Witwe' at the Daedu Opera.
In the season 2016/17 he was SCARPIA at the Braunschweig State Theatre, returned to Detroit as CYRANO (Composed by di Chiera) and sang several concerts.

International guest appearances brought Marian Pop to renowned opera houses such as the Tel Aviv Opera (MALATESTA in 'Don Pasquale'), the Palm Beach Opera Miami as DANDINI in 'La Cenerentola', the Philadelphia Opera both as MARCO in 'Gianni Schicchi' and MERCUTIO in 'Romeo et Juliette', the Opera de la Bastille Paris as MARULLO in 'Rigoletto', to Baltimore, Orlando and Arizona as CONTE ALMAVIVA in 'Le nozze di Figaro' and to Portland as SILVIO in 'I Pagliacci'.

At the Michigan Opera Detroit,he was FIGARO in 'I Barbiere di Siviglia', MARCELLO in 'La Boheme', he sang the title role of CYRANO (world premiere with music by David di Chiera), MR. GOBINEAU in 'Das Medium' the soloist BARITONE PART in 'Carmina Burana' and in the season 2015/16 TADEUSZ in Weinberg's 'Die Passagierin'.

The Romanian baritone is a regular guest perfomer at the Stuttgart State Opera, the Basle and the St. Gallen Theatre , in Enschede, Klagenfurt, Bucharest or Santiago de Chile, where he sings FALKE or EISENSTEIN in 'Die Fledermaus', the CONTE ALMAVIVA in 'Figaro', BECKMESSER in 'Die Meistersinger von Nürnberg', MELOT in 'Tristan und Isolde', BELCORE in 'L'elisir d'amore', DANDINI in 'La Cenerentola', ULISSE in 'Ritorno d'Ulisse in Patria', POSA in 'Don Carlo', TADDEO in 'L'italiana in Algeri', VALENTIN in 'Faust', MALATESTA in 'Don Pasquale', DON GIOVANNI and PATALONE in 'The love of the 3 Oranges'.

One of his most-sung roles is FIGARO in' Il barbiere di Siviglia', wich he sang with huge success at the Stuttgart State Opera, the Leipzig Opera , the State Theatre at the Gärtnerplatz in Munich , in Klagenfurt, at the Basle Theatre, in Santiago de Chile, Palma de Mallorca, Arizona and Enschede.

MARIAN started his musical education with violin studies and from 1995 he completed them with vocal studies at the Musical Academy of Cluj. His first engagements brought the Romanian singer to the Vienna State Opera and the Vienna Popular Opera, where he sang such roles as PING in 'Turandot', HARLEKIN in 'Ariadne auf Naxos', MARULLO, MALATESTA, VALENTIN, FALKE, GRAF HOMONAY in 'Der Zigeunerbaron' and DEMETRIUS in 'a Midsummer night's Dream'.

Lately, Marian Pop was a member of the Kassel State Theatre, where he enjoyed great successes in such parts as SCARPIA in 'Tosca', RIGOLETTO, FANINAL in 'Der Rosenkavalier' and EUGEN ONEGIN. In the season 2014/15 the baritone was elected "most popular singer" by the Kassel audience. Above all his portrayal of the cunning barber was highly praised. "His vocal quality is just as impressive as his comedian talent and his stage presence." (HNA, June 2015).

Concert performances and Lieder evenings with works of von Mahler, Brahms, Fauré, Mendelssohn, a.m.o. complete his "huge performing versitality" (HNA on 16. June 2015).

In the season 2018/2019 he sings a.o. FRANK in 'Die tote Stadt' with the Enschede Opera in the Netherlands.
REVIEWS
Stadttheater Bremerhaven - Cavalleria /I Pagliacci – ALFIO
Marian Pop as Alfio is a baritone with a considerable voice volume. He pleases with his intense play.
Der neue Merker 1 / 2020 – Hermann Habitz
Landestheater Innsbruck –La Gioconda – BARNABA
MARIAN POP with his dark, metallic voice as Barnaba was a villain par excellence. He outshines even Jago, exactly how Verdi intended the character to. Moreover, the Romanian baritone, who is mainly engaged at the Kassel Theatre has a clear, outlined diction and an agile voice leading. He is perfectly secure in the high register and his bald head even underlines the character' meanness.
Opernglas – 1/2018
"Marian Pop gave a truly mesmerizing acting performance in the role of Barnaba. From his first entrance onto the stage, in which he is seen bugging Gioconda's phone, he exudes evil, and moreover, he relishes in the fact. He is never far from the heart of the action in one guise or another, whether it be a lawyer, an army captain or a seaman, yet he is always a spy, always intent on destruction. Pop played the part for all it was worth, his every gesture, his every facial expression perfectly placed. He laughed at people's despair, enjoyed their pain and hated everyone, including Alvise. In Act two, a group of citizens are caught attempting to escape the country on Enzo's ship. The curtain falls to Barnaba orchestrating their execution. Pop has an accomplished singing technique, which he employed to good effect. His phrasing was always finely measured, with exactly the right amount of venom or irony in the voice."
Opera Wire
www.operawire.com
Michigan Opera Detroit- CYRANO
"... Marian Pop, with his brilliant baritone and charismatic stage presence, was hand-picked by DiChiera to create the role of Cyrano ten years ago, and his return to the role is most gratifying. He owns the role. Indeed, the physicality of the acting performance, with its swashbuckling gallantry and sword play, parallels the dynamic vocal qualities required for the part. Pop delivers with both power and nuance, giving vent to rage and yearning, evoking the comedic wit and tragic poetry encompassed in this heroic role."
Encore Michigan
www.encoremichigan.com
Staatstheater Kassel - EUGEN ONEGIN
"And with his expressive and increasingly emotionally charged baritone voice, Marian Pop in the title role as Eugen Onegin creates a credible transformation from cool seducer into desperate lover."
HNA
HNA
"Marian Pop in the title part has a nobly timbred baritone voice, that reveals profound magnitude, especially in the desperate outbursts of the final scene."
Göettinger Tageblatt
Göettinger Tageblatt
Staatstheater Kassel - RIGOLETTO
"How closely allied love and hate are, how profound the bitterness is, a person - stigmatized by the society - feels, is perfectly portrayed by Marian Pop as Rigoletto - both vocally and dramatically."
HNA
HNA
Staatstheater Kassel - Der Rosenkavalier - FANINAL
"Marian Pop is a remarkable Faninal."
OMM
OMM
ON STAGE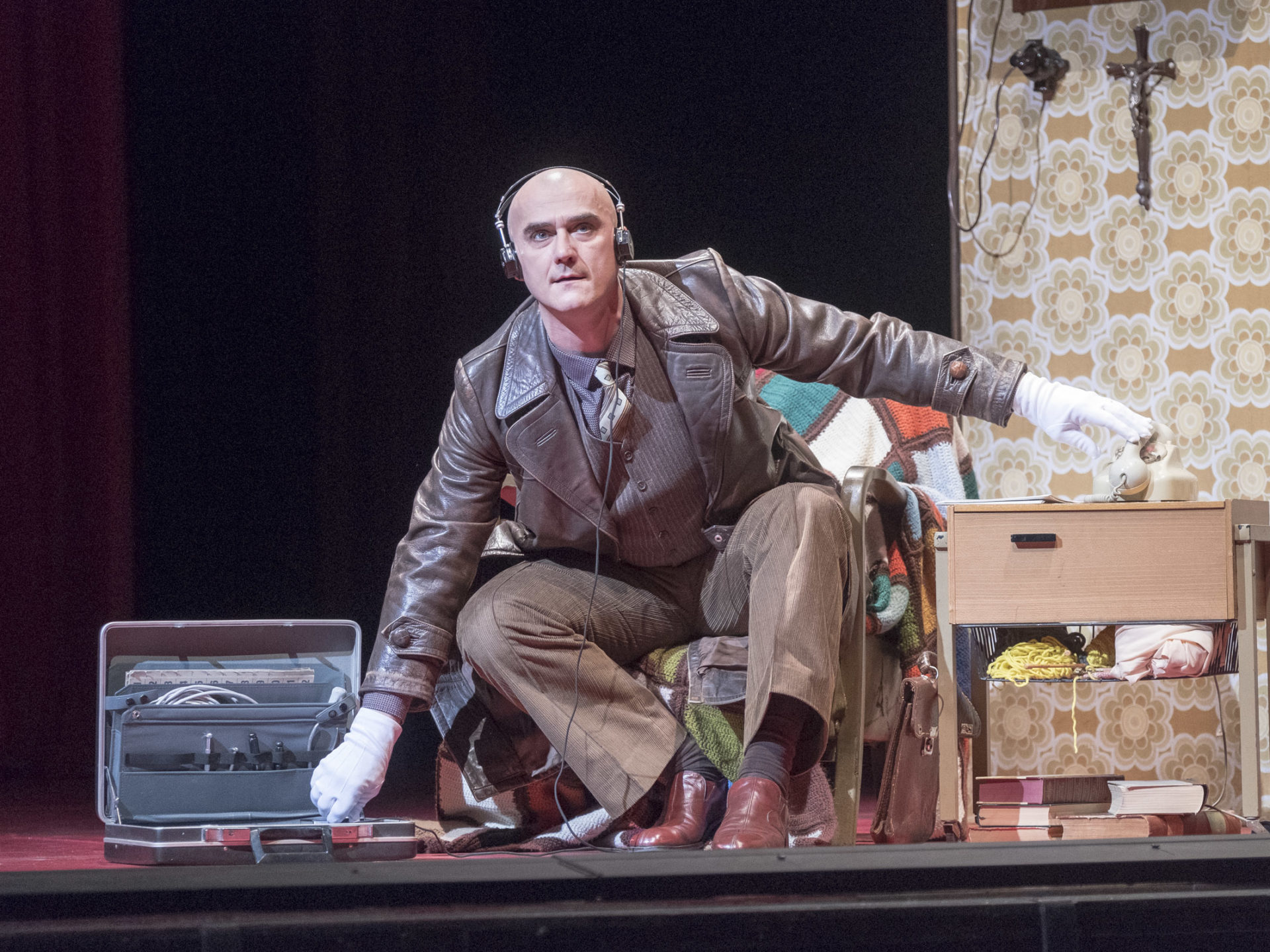 Landestheater Innsbruck – La Gioconda – BARNABA
Staatstheater Kassel - EUGEN ONEGIN
Staatstheater Kassel - RIGOLETTO
Michigan Opera - CYRANO
Staatstheater Kassel - Die Fledermaus - EISENSTEIN