BIOGRAPHY

'..but the most impressive moments came from Marlene Lichtenberg with her deep, velvet alto voice'

the German magazine OPERNWELT wrote on Marlene Lichtenberg's debut as ERDA (in Siegfried) at the Cottbus State Theatre. The artist keeps celebrating great successes in this very theatre e.g. as FLOSSHILDE, FRICKA, WALTRAUTE, 1st NORN, as AMNERIS, JEZIBABA ( Rusalka), NIKLAS (Hoffmann's Erzählungen), ORFEO, HÄNSEL , BRADAMANTE, LEONORE (La Favorita) and CARMEN. In the season 16/17 she also sings EBOLI in 'Don Carlo' here.

Marlene Lichtenberg was discovered in 2001 by the conductor Fritz Weisse - founder of the National German Singing Competition - in her home town in South Tyrol (Austria). Subsequently she studied singing at the Mozarteum in Salzburg and the renowned Janacek Music Academy in Brno (Czech Republic). She took master classes with KS Hilde Zadek and Sena Jurinac. Marlene Lichtenberg was musically formed by her first teacher, the successful Czech bass-baritone Richard Novak, by Janina Baechle and Vito Maria Brunetti.
In summer 2007, the attractive singer, whose soprano voice shows a beautiful profound depth, had her opera debut at the Festival d'Opéra Avenches. Guest performances brought her as MADDALENA (in Rigoletto) to the Teatro Regio di Torino , Besides, as Philippe Boesman' s JULIE at the Teatro Comunale Bolzano, as as ULRICA to the Kosice State Theatre and Brixen.

In summer 2007 the good-looking artist, whose voice posseses a profound depth, made her opera debut at the Festival d'Opéra Avenches. Guest performances brought her then as MADDALENA (Rigoletto) to the Teatro Regio di Torino, with the title role in Philippe Boesman's JULIE to the Teatro Comunale Bolzano and as ULRICA to the Kosice State Theatre and to Brixen.
She enjoyed great succes as CARMEN at the Riga National Opera and at the Liberec Opera, she portrayed the FIRST MAID in Elektra at the Teatro Massimo Bellini in Catania and the ZIA PRINCESSA in 'Suor Angelica' a.o. in Sirmione and at the Lübeck Theatre. She performed ULRICA in Un ballo in maschera at the Teatro Malatesta di Montefiore Conca, GERTRUDE (in Gounod's Roméo et Juliette) at the Teatro di Pisa and the Teatro Alighieri di Ravenna, the MAID in 'Titanic' at the Rostock Popular Theatre and FENENA at the Opera Festival Bad Hersfeld. For this last performance she was awarded the Opera Prize for the best singer of the 2010 Festival.

In summer 2017 she is AMNERIS in Aida in the open air production of the Ulm Theatre and she sings concerts with the Brno Philharmonic Orchestra.

Apart from her numerous opera performances, Marlene Lichtenberg is also a very much sought-after concert soloist. She already performed at the Berlin Philharmonic with the Thomas Boys Choir Leipzig, sang Mozart's Requiem in Bremen and Bach's Mass in B-minor at the Beethoven Hall in Bonn. Lately, she inspired the audience of the Brandenburg Summer Concert with Mahler's 3rd Symphony as an Opening Symphony. Her interpretation of John's Passion with the Orchestra of the Darmstadt State Theatre could be heard in 2015.
In addition to her 'native languages' German and Italian Marlene Lichtenberg is fluent in French and Czech. Her vast repertoire includes not only alto parts like ULRICA, ERDA and EBOLI, but also AMNERIS and her favorite role CARMEN.

An overwhelmingly positive surprise was the role of Erda, spectacularly sung by the young Marlene Lichtenberg, with her beautiful, sonorous voice. Finally there is hope once again for the alto repertoire.
Der neue Merker
REVIEWS
Landestheater Coburg – Rusalka – FOREIGN PRINCESS
The foreign princess, Marlene Lichtenberg with her powerfully bold soprano voice.
O Ton Magazin
Theater Ulm – Aida - AMNERIS
With her mezzo soprano voice, which succeeds in singing both melodious and impressive depths and clear peaks, and by her great stage presence Marlene Lichtenberg gives an impressive portrayal of the king's daughter Amneris.
Der neue Merker
www.der-neue-merker.eu
Cottbus State Opera - Don Carlos - EBOLI
'Marlene Lichtenberg souvereignly plays the court lady Eboli,'
Märkische Allgemeine
www.maz-online.de
Cottbus State Theatre - Peer Gynt - MOTHER AASE
"…The alto singer Marlene Lichtenberg as Mother Aase makes a lasting impression both vocally and actingly..."
Nmz online, Pachl, 2014
Cottbus State Theatre - CARMEN
"…Marlene Lichtenberg (Carmen) succeeds in convincing with vocal power. Her 'Habanera' is sung with smooth timbre and performed with relaxied, flexible phrasing, Besides, she convinces by her accurate alignement and a wide opening in the peaks in the duets…"
Operpoint, Zenner, 2013
"…Marlene Lichtenberg displays her dramatic soprano voice in a most intellectual way. Though nearly leaving the stage, it always remains her dominating centre. She knows how to concentrate entirely on the enchanting music with its fine nuances and on the unaffected text. What is needed beside that, nature gave her to the extent.…"
Der Märkische Bote, J.Heinrich, 2013
"…The performance of George Bizet's opera "Carmen" in the great house was a success in every sense of the word. "Carmen" seems to be tailor-made for Marlene Lichtenberg …"
Lausitzer Rundschau 2013
"Marlene Lichtenberg's charisma put a spell on the audience. Though there is no such thing as an ideal cast for any role in the world, Marlene Lichtenberg is perfectly close. She takes up the role and gives it her own, unique note. She is brilliant. The moment she meets José is really magical. For a moment time stands still. The look into each others eyes and it's all up with them.…"
Cottbusser Bühnen
Cottbus State Theatre - Götterdämmerung - WALTRAUTE
" Another rising star is Marlene Lichtenberg, whose darkly timbred mezzo soprano voice reveals fantastic colored shadings and a widely opening peak volume, especially in the role of Waltraute. …"
Operapoint, Zenner 2013
"A remarkable role debut also for the mezzo soprano Marlene Lichtenberg as Waltraute, simultaneously making her debut as First Norne and Flosshilde - three role debuts on one evening! And each one of them succeeded perfectly well, her Waltraute even succeeded excepionally well. Like Paßow, Malene Lichtenberg knows how to combine diction with an intense facial expression and perfect intonation. She creates a Waltraute of a highly emotional intensity, who in her discussion with Brünnhilde rides an emotional rollercoaster. With perfect diction she sings beautifully internalized passages such as " … dann noch einmal – zum letzten mal – lächelte ewig der Gott." and "Erlöst wär' Gott und Welt!" and "Walhalls Göttern Weh'!" In doing so the actress-singer created tones on every syllable. With her professionality and her discipline she is surely going to come far in the German repertoire."
Der Neue Merker, Dr. Klaus Billand, 2013
"…Also outstanding: Waltraute sung by the wonderful Marlene Lichtenberg, who brings a touching mezzo soprano. …"
Der Märkische Bote, J.Heinrich 2013
Cottbus State Theatre - Orpheus and Eurydice - ORPHEUS
"…Marlene Lichtenberg, whose singing was very touching and full of emotions with a wonderfull sound. Though never pushing to the fore, she simply formed the focus of the evening. …"
Lausitzer Rundschau, Jens Pittasch, 2013
Riga National Opera - Carmen
The fact that all these scenes and special moments were expressed in such a multi-faceted way, is owed to a great extent to the mezzo soprano Marlene Lichtenberg , a member of the Cottbus Theatre. She made her debut at the LNO Riga as Carmen, a role she hasn't sung yet quite often. Yet she sings it as if she had been performing it for a long time. Even though ín Cottbus, she constantly sings such parts as Niklas, Hänsel, Amneris, Ulrica, Jezibaba, Olga but also significant Wagner roles such as Erda and the "Götterdämmerung" Waltraute and smaller parts like Flosshilde and the First Norne. Lichtenberg didn't play the part, she WAS Carmen, bringing so much intensity on the huge Riga stage with her vivid engagement and her versatile facial expression. Once on stage, she immediately stood in the limelight. Be added her melodious, dramatic mezzo, which masters all the heights and depths of the part, always with perfect intonation and rich timbre. And as a pleasant side effect she also has the ideal looks fo a Carmen.
Klaus Billand,-Der neue Merker
SZENENFOTOS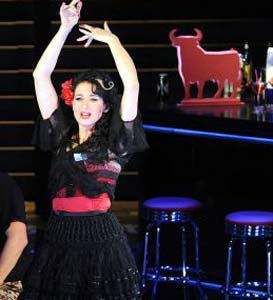 Carmen - Theater Cottbus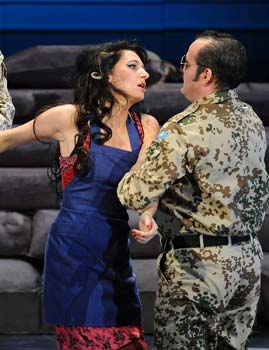 Carmen - Theater Cottbus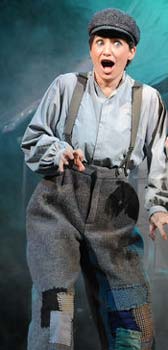 Hänsel und Gretel - HÄNSEL - Theater Cottbus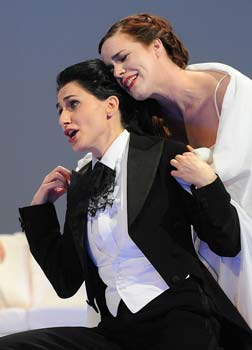 Orpheus und Eurydice - ORPHEUS - Theater Cottbus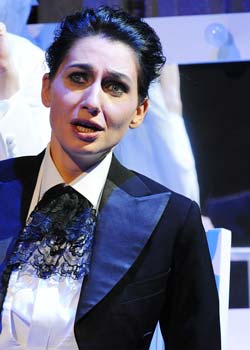 Orpheus und Eurydice - ORPHEUS - Theater Cottbus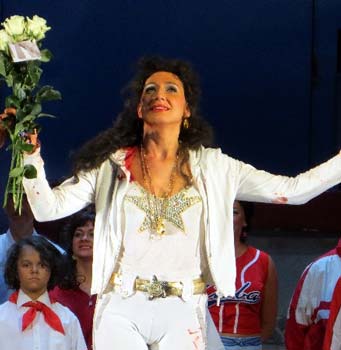 Riga National Opera - Carmen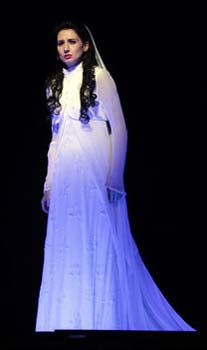 Staatsthater Cootbus - Aida - AMNERIS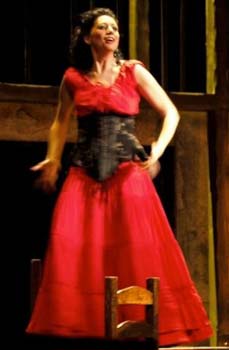 Carmen - CARMEN